0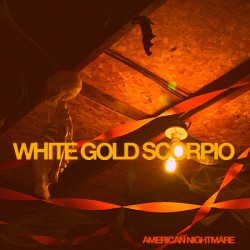 It's that time of year again, when people defile perfectly serviceable gourds and wear more make-up than Ru Paul, all in a never-ending hunt for diabetes.  Yes, Halloween is back, and so is Sean Hoen/White Gold Scorpio with another Misfits cover!  This year: American Nightmare, a song that as a more than 20 year fan of the band I now realize I never knew the actual words to.  Also a personal favorite, oddly enough, as it really was a great combination of punk, rockabilly, goth/horror, and Danzig's obsession with Elvis Presley (plus, not to harp on it too much, but the number of hours I kept rewinding my Legacy cassette, trying to figure out the words…do people still do that in the internet age?).
Your holiday message from Sean:
Dead Fiends,

At the last minute, Dan and I were bullied into recording the annual Halloween jingle.  We tracked it yesterday in Dan's new Brooklyn living room–– a cover of The Misfits 1979 "American Nightmare."   It's a deep cut from the Legacy of Brutality album.  The original is, as always, far superior, so look it up if you want the real thing.

Hope all is well.

Love,

Sean

Sean Madigan Hoen, "American Nightmare"
[ 3:25 ]
Play Now
|
Play in Popup
|
Download